iTAKA: DATA ANALYSIS AND DECISION SUPPORT LAB PRESENTATION
ITAKA (Tecnologies Intel·ligents per a la Gestió Avançada del Coneixement) és un grup de recerca de la Universitat Rovira i Virgili (URV). Va ser fundat el Gener de 2007 pel Dr. Antonio Moreno i la Dra. Aïda Valls, seguint els passos marcats per l'exitós Grup de Sistemes Multi-Agent (GruSMA) de l'any 2000 al 2006. Tenim dues línies de recerca. Els resultats s'estan aplicant principalment a Medicina, Turisme i Medi-ambient.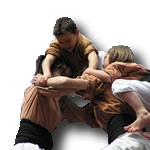 Sistemes Distribuïts
Enginyeria d'ontologies, en especial l'aprenentatge automàtic d'ontologies.
La gestió automatitzada basada en agents de processos distribuïts, especialment l'execució de guies de pràctica clínica.
Manegament de coneixement semàntic.
Agregació de Dades
Personalització i recomanació (gestió dinàmica de perfils d'usuari).
Protecció de la privadesa.
Algorismes de classificació automàtica.
Aplicacions de sistemes d'ajut a la presa de decisions multi criteri.
ITAKA (Intelligent Technologies for Advanced Knowledge Acquisition) is a research group of the University Rovira i Virgili (URV). It was founded in January 2007 by Dr Antonio Moreno and Dr Aïda Valls, following the successful trail left by the Working Group on Multi-Agent Systems (GruSMA) from 2000 to 2006. We have two research lines. The results are mainly applied to eHealth, Tourism and Environment Protection.
Distributed Systems.
Ontology engineering, especially automatic ontology learning.
Automated agent-based management of distributed processes, especially enactment of clinical guidelines.
Semantic web knowledge.
Aggregation operators.
Personalisation and recommendation (dynamic user profile management).
Statistical disclosure control.
Clustering.
Multicriteria decision making.